Amazon to Open Fulfillment Center in Newbury Park
Friday, August 24, 2018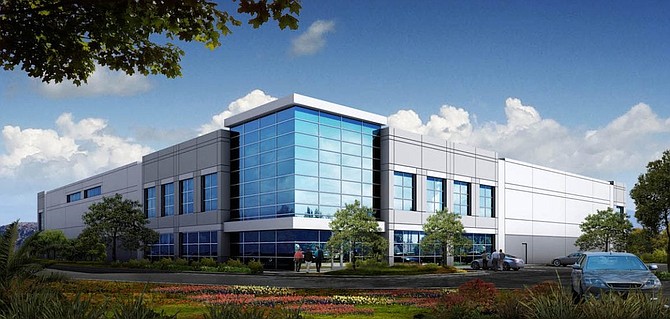 Amazon.com Inc. appears on the cusp of occupying square-footage at a warehouse in Newbury Park, according to a Thousand Oaks Acorn report.

While no lease-signature or move-in date has been officially announced, the e-commerce giant, which has been posting openings for various positions in the Rancho Conejo area for months, will presumably land at Sares-Regis Group's 500,000-square-foot Conejo Spectrum Business Park.
Colliers International has been leasing space at the newly minted Thousand Oaks industrial park, which is located not far from Amgen's sprawling corporate campus and a number of design studios run by automotive firms such as BMW, General Motors and Volvo in the Newbury Park area. The complex's glass-and-concrete structures range from about 37,000 square feet to 99,000.
Amazon has made headlines since last October as it searches for a U.S. city to establish its second corporate headquarters, to be announced by year's end.
The Seattle-based e-commerce giant, which employs more than 550,000 people globally, already has a massive fulfillment center in San Bernardino. The company also runs smaller sorting centers, including one in Chatsworth. In May 2017, Amazon acquired Graphiq in Summerland and established the small company as one of its developers of content for its Alexa and Echo devices.
It remains unclear how many jobs will be generated at the Newbury Park site, but such positions as warehouse fulfillment associate, sortation associate and driver trainer have been solicited online.
Completed in July, Conejo Spectrum, the city's first major industrial development since 2003, houses such companies as Sage Publications, Minimus, Nicotine River and Sideshow Collectibles. Cancer treatment developer Atara Biotherapeutics celebrated its grand opening at the complex in June.
With a 1.7 percent industrial vacancy rate, the Conejo Valley market needs construction to accommodate demand. According to Thousand Oaks Economic Development Manager Haider Alawami, there is more to come as the city works with Shapell Properties Inc. to develop real estate adjacent to Sares-Regis Group's industrial campus. Ideas on the table include Shapell building 15 high-end warehouses, varying from 24,000 to 70,000 square feet — for a total of some 700,000 square feet of new industrial space.