Thousand Oaks State of the City Address Echoes 'T.O. Strong' Theme
Tuesday, December 11, 2018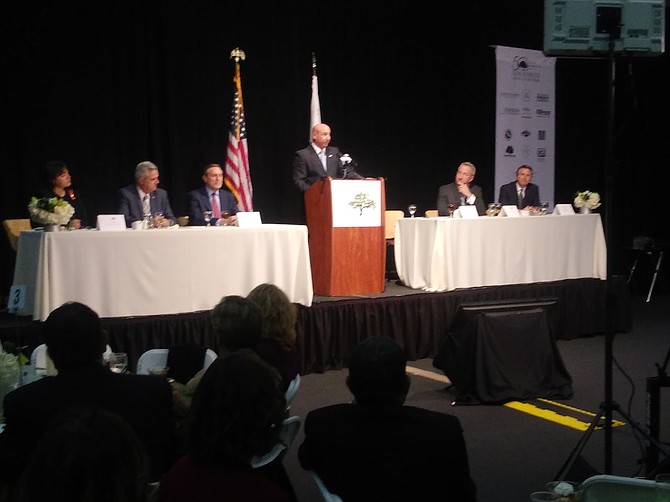 Before some 400 attendees, Mayor Andy Fox delivered a keynote address at the city of Thousand Oaks' annual State of the City Address Tuesday, acknowledging heroism and professionalism in the face of last month's twin tragedies: the Borderline bar shooting, which left 13 dead, and the Woolsey Fire.
This year's address, held at California Lutheran University's Gilbert Auditorium, proved short on statistics and economic boasts and heavy on emotion and talk of rebuilding from the disasters.
Fox, who recently retired from his position as Los Angeles Fire Department assistant chief, began by noting how the city of Thousand Oaks had historically made the FBI's annual list of safest cities in America.
"Now look who is on the list for a mass shooting," he lamented.
He spoke of how the city tragically segued, within 24 hours, from a mass shooting to a fire forcing locals to evacuate with no time to grieve. Yet the Mayor underscored the community's resiliency.
"We came together, we cried together, we hoped together, and, yes, we prayed together," he said.
Fox also praised local corporate citizens based in Thousand Oaks and neighboring Conejo Valley, including Amgen Inc., Los Robos Medical Center, Baxter and Sage Publishing. He singled out the Agoura Hills-based Los Angeles Rams organization for rising to the occasion. At the game against the Kansas City Chiefs and other efforts, the team raised $2.2 million in disaster relief funds.
"The Rams showed the entire nation what corporate citizenship is all about," Fox said.
Currently serving his sixth term as mayor and his 24th year on the Thousand Oaks City Council, Fox asked various key individuals, such as Police Chief Tim Hagel, to rise, inviting standing ovations from the audience.
The mayor's speech followed a presentation by the Ventura County Sheriff Department and Ventura County Fire Department Honor Guard and an introductory speech by Cal Lutheran President Chris Kimball.