VICA Adds Names to Hall of Fame
Friday, June 29, 2018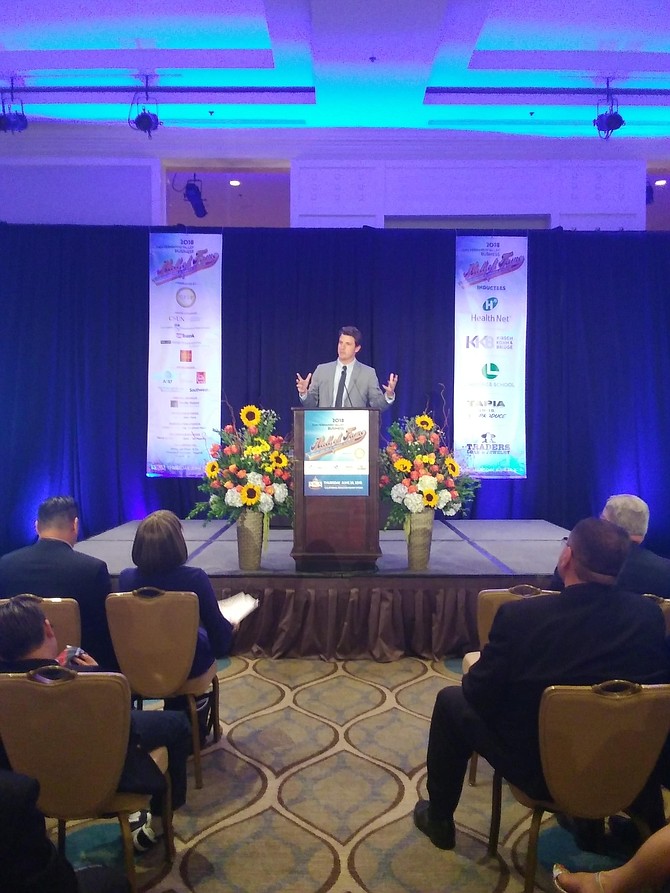 Business and civic leaders came together at the Universal Sheraton in Universal City on Thursday as the Valley Industrial & Commerce Association held its Hall of Fame Awards, where Woodland Hills-launched insurer Health Net, Kirsch Kohn & Bridge in Woodland Hills, Laurence School of Valley Glen, Encino's Tapia Bros. Fresh Producer and Traders Loan & Jewelry of Reseda were honored.
After an introduction by VICA President Stuart Waldman, who in 2018 celebrates a decade with the organization, Sen. Henry Stern served as the evening's emcee. Freshly flown in from Sacramento, Stern called the Valley a great place to live, work and start a family but quipped, "maybe not to commute."
Stern began the evening by name-checking honorees of past years as well as the politicians and other notables in the room, which included Los Angeles County Assessor Jeff Prang; Los Angeles City Councilmembers Nury Martinez, Paul Krekorian, Bob Blumenfield and Sandra Armenta; Calabasas Mayor Fred Gaines and Mayor Pro Tem David Shapiro; and Brad Rosenheim of Rosenheim and Assoc. in Woodland Hills.
Accounting firm Kirsch Kohn & Bridge LLP, originally named Kirsch, Stein & Co., opened its doors in North Hollywood in 1961. Accepting the award for his firm, Managing Partner Stuart Jaffe lauded late co-founder Mel Kohn for instilling in the firm "the benefits of community involvement." Community wide relationships, Jaffee said, "is the secret sauce to our success."
Founded in 1953 as a one-room school by Marvin Jacobson, Laurence School, located at 6424 Woodman Ave., today sits on 5 acres, where it serves 300 elementary kids. "I'm Valley, true and true," said Jacobson's daughter, Lauren Wolke, who this year celebrates her third decade as head of school. She said her father understood the importance of not just giving kids the proper academic training but also giving them the physical and emotional teachings "to raise really good human beings."
US Bank inducted Traders Inc., which launched in 1954 at 18505 Sherman Way, where it still operates today.
"We are just like a bank, covered by the same rules and regulations," said Traders' Diane Taylor of her bartering institution.
Jill Banks Barad, commissioner of LADWP, introduced Tapia Bros. Inc., which started in Encino in 1984 but is based on a family business that goes back five generations of Mexican-Americans to 1916 in Santa Clarita. Tom Tapia laughed that he was here to "negotiate our water bill, Jill," before handing the microphone to nephew John, who spoke of how his family business witnessed, across the decades, the Valley's development from orange groves to urban sprawl. He referred to the Tapia Bros., located at 5251 Hayvenhurst Ave. in Encino, as "a time capsule in the middle of the Valley."
Presenters also paid tribute to Health Net, which has been providing medical coverage in California since 1979, when it launched in Woodland Hills. From the stage, speakers saluted and thanked Pegi Matsuda in attendance, as the day represented Matsuda's last as leader of Valley Presbyterian Hospital Foundation.
"You've heard tonight from the (economic and business community) infrastructure of the Valley," Stern said at evening's close.
About 300 people attended the event. Wells Fargo, US Bank, Valley Presbyterian Hospital, Los Angeles Department of Water & Power, and California State University – Northridge sponsored the awards, while AT&T, Los Angeles Daily News, Southwest Airlines, the Garland and San Fernando Valley Business Journal were co-sponsors.