Valley Economic Forecast: Sunny With Higher Growth
Wednesday, May 16, 2018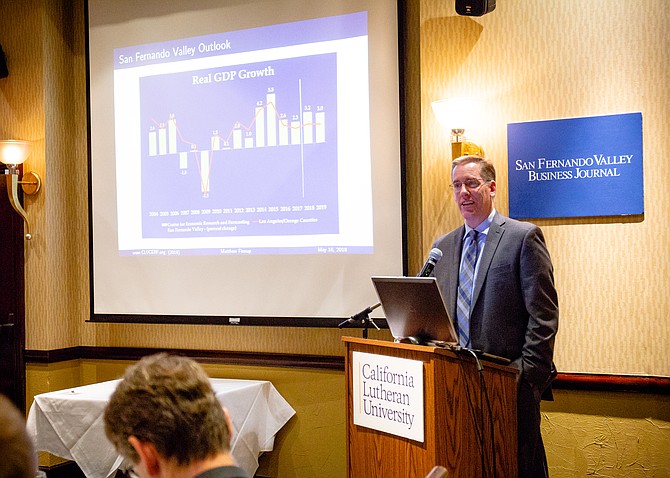 Forecasters have upgraded their predictions for the San Fernando Valley during 2018, Matthew Fienup, executive director of the Center for Economic Research and Forecasting at California Lutheran University, announced Wednesday at a breakfast organized by the Business Journal.
"Our outlook for the San Fernando Valley is bright," said Fienup. "The San Fernando Valley continues to grow more rapidly than neighboring geographies in the year ahead."
He delivered the news as an update to a forecast he gave in December for the San Fernando Valley. Fienup said his team now estimates 3.2 percent growth for the San Fernando Valley in 2018, while the previous forecast in December was for 2.8 percent growth.
The Center for Economic Research and Forecasting is the only organization that specifically examines the Valley economy. The Thousand Oaks organization developed a data set using ZIP codes to define the local economy.
After admitting that his team had underestimated the power of the Trump administration's Federal tax reform and profit repatriation policies, both of which have strengthened the nation's economic activity, Fienup went into the minutiae of the San Fernando Valley's economy, which has seen its biggest statistical boosts in the information/technology and leisure/hospitality job sectors.
Fienup observed that, since 2014, the San Fernando Valley's economy has "now every single year grown more rapidly than the rest of L.A." In fact, in the 2014-15 fiscal year, the Valley's growth proved stronger than the entire state of California.
While job growth last year ranked below Los Angeles and California, the Valley nevertheless exhibited a higher GDP because the fewer jobs added onto the Valley's economy were higher-paying.
In summation, Fienup considered the Valley's fiscal landscape "a picture of strength and resilience" but he warned that a cooling trend may set in over the next couple years. If there are any hints of a downer on the horizon, it's rising housing costs.
The economist's proposed solution to offset a dip in the Valley economy is to retain and grow companies in the market's most thriving sector.
"Don't cook the golden goose," Fienup warned. "Infotech is the golden goose in San Fernando Valley."