Business Journal Awards Trusted Advisors
Friday, August 9, 2019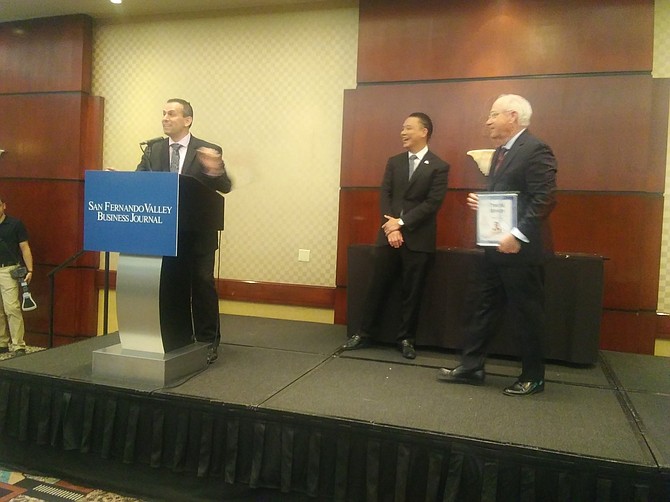 The San Fernando Valley Business Journal held its annual Trusted Advisors Awards Thursday evening, honoring the Valley area's top achievers in the areas of legal counsel, banking, accounting, insurance and wealth management.
The event at the Hilton Woodland Hills hotel drew nearly 150 members of the Valley area's professional community.
Wells Fargo served as the event's presenting sponsor. Mission Valley Bank, Provisors and Cowe Consulting rounded out the platinum sponsors, while Parker Brown was gold sponsor.
"The event helps to recognize the importance of the relationships these professionals have developed with their clients as they guide them through this complex business environment," Business Journal Publisher Charles Crumpley said from the podium.
Presenting sponsor representative Robin Choi, Wells Fargo's regional bank president, helped reveal the 14 advisors who were presented with awards.
In the Accountants category, Stephen Landsman of Squar Milner's Encino office picked up the Client Service prize. The Trailblazer award went to Laura Azzalina Rigali of Illuminate, whom Choi noted takes a special pride in assisting female entrepreneurs. The Innovation Leadership Award was presented to Jeff Neumeister of Neumeister and Associates, a relatively young business in Burbank.
In the Attorneys category, Brian Ross of Ross Legal in Encino picked up the Client Service Award. Colleague Mark Jaffee accepted the award on behalf of Ross.
Karen Gabler of the LightGabler law firm scored the award for Innovation Leadership. The Trailblazer award went to Barry Kurtz of Lewitt Hackman, Shapiro, Marshall and Harlan for his many years as a leader in franchise law. Finally, Donald Weissman of Weissman Law Firm in Tarzana won the Community Service Award for volunteering time to help those in need of legal assistance.
For bankers, Rachel Carrillo Vasquez of Mission Valley Bank won the Client Service Award. A Community Service Award went to Petros Altunyan of First Republic Bank. He is an active member of the Valley Economic Alliance.
In the category for Insurance Professionals, the award for Client Service went to Sherry Martin of Plan Member Services. Brian Chu of Epic Insurance Brokers and Consultants scored the Innovation Leadership Award in part for the work the bilingual Chu has done on behalf of the local Chinese-speaking community. The Trailblazer Award went to Brian Lacher of Montage Insurance Solutions. And the Community Service Award was presented to Barry Cohn of Really Great Employee Benefits for dedicating more than 40 years to extensive volunteerism.
In the Wealth Managers division, Juan Ros of Thousand Oaks-based Forum Financial Management won the Client Service nod for tailoring his advice not only to support clients' goals but their dreams as well.
Overall, the Business Journal's publisher was pleased with how the awards presentation evening had unfolded.
"This is a way to acknowledge some of our top-performing professionals," Crumpley said.