MGA Entertainment Celebrates Launch of 24 Campus in Chatsworth
Friday, August 16, 2019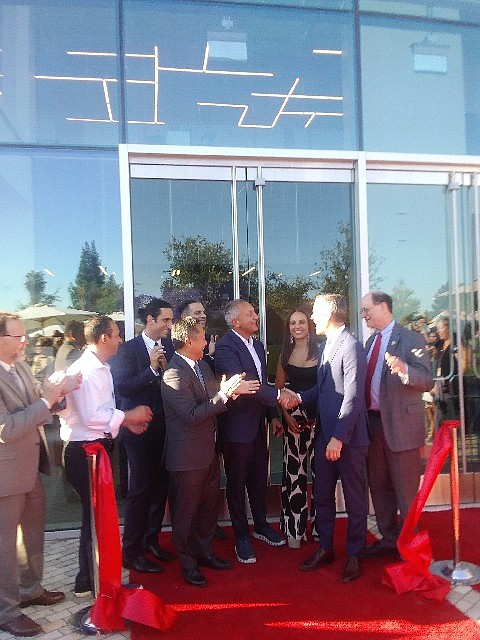 MGA Entertainment Inc. opened its new headquarters Thursday with a ribbon-cutting and groundbreaking.
Called 24, the campus has two levels and 255,000 square feet of creative office space, soon to be joined by 660 residential units, ground-floor shops and services and an onsite preschool.
At the event, MGA Chief Executive Isaac Larian led L.A. Mayor Eric Garcetti on a walking tour of the new work facility, marked by wide-open floors, glassy walls and high ceilings, and ample natural light. Developed by Uncommon Developers, led by Isaac Larian's son, Jason Larian, and his son-in-law, Ryan Hekmat, the building also houses Uncommon's offices in a second-floor corner.
Offical speakers at the event included Congressman Brad Sherman, newly minted District 12 City Councilman John Lee, and Lee's predecessor Mitch Englander.
The campus is named 24 because the idea is to create a 24/7 environment. Amenities will include three pool plazas, sports park, community gardens, yoga studio, citrus grove, bamboo forest, water features, amphitheater and a village green with an outdoor cinema.
Phase I only took 18 months to adapt as creative office space, and Hekmat commended "the efficient and responsive department of Building and Safety here in the great city of Los Angeles" for making this project "meet and exceed schedules."
Phases II and III of the 9220 Winnetka Ave. site will bring the residential units online in 2021 and 2022.
Isaac Larian admitted that while Chatsworth was "not the most convenient location for a toy company," the site signals an opportunity to stimulate economic growth in a community where "there were other industries here that I don't want to mention," he said, smiling.
Formerly based in Van Nuys, MGA Entertainment, the biggest private toy company in the world, has relocated some 430 employees to the site. The company has 1,300 employees worldwide.