VICA Passes Gavel to Incoming Chairman Rosenheim
Friday, December 13, 2019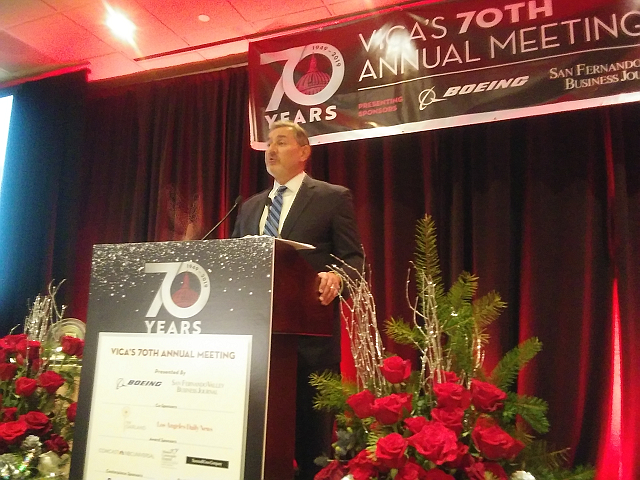 Longtime Valley Industry & Commerce Association member Brad Rosenheim, of Woodland Hills-based Rosenheim & Associates, became chairman of VICA's board at the organization's 70th Annual Meeting Friday at Airtel Hotel in Van Nuys.
As incoming chairman, Rosenheim said, "I've been a part of VICA for nearly 40 years … and I never expected to fill this role."
Under his watch, Rosenheim pledged to continue the Women's Leadership event started by his predecessor, Lisa Gritzner of LG Strategies.
"I don't think we can be in better hands," Gelb Enterprises' Gloria Pollack said of Rosenheim from the podium.
"VICA turned 70 this year," said Tony Mueller from Spectrolab, a Boeing company, one of the presenting sponsors. "It's hard to imagine fully what the San Fernando Valley looked like then. The population had almost doubled from 228,734 in 1945 to 402,538 in 1950. Now look at where we are."
Gritzner, whom California State Senate Majority Leader Bob Hertzberg called "a rock star," humorously pulled out a pair of size 9 leopard-pattern pumps and placed them squarely on the podium, representing the shoes Rosenheim had to fill.
Hertzberg oversaw the installation of the 2020 board and officers.
During the awards section of the program, VICA Vice Chair Steve Nissen of NBCUniversal presented the Robert E. Gibson Corporate Award of Excellence to Chevron Corp.
Rod Spackman, who serves on the VICA Board of Governors, accepted the award on behalf of the energy company. "We appreciate being a part of the San Fernando Valley," he said.
Brad Cox of real estate developer Trammell presented the President's Award, given to a VICA volunteer who goes above and beyond in service to VICA throughout the year or years. The award went to Scott Mills, general manager of The Garland.
"In his role, Mills lead the rebrand of The Garland and a $20 million dollar renovation of the iconic North Hollywood hotel, which debuted the summer of 2014," Cox said.
Last year's Harmon Ballin Community Service Award winner Jane Skeeter and VICA Vice Chair James Theiring from Mission Community Hospital presented the Harmon Ballin Community Service Award to Lee Alpert of law firm Alpert Barr & Grant.
"Lee espouses the spirit of the Harmon Ballin Community Service Award through his active involvement with community-based groups," Theiring said.
Accepting his award, Alpert thanked his wife and son and said, "I encourage all of you to be involved in one cause. Love the cause and it will love you back."