Kaiser Workers Strike in Panorama City
Monday, December 16, 2019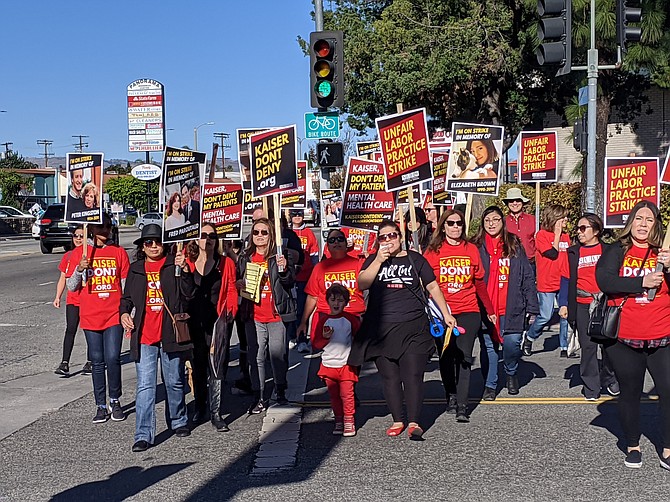 Mental health workers on Monday set up a picket line outside Kaiser Permanente's Panorama City Medical Center to strike against inadequate staffing numbers, as well as poor retirement and health benefits.
The statewide strike, involving more than 4,000 workers and led by the National Union of Healthcare Workers, will continue through Dec. 20. The union strike was planned for Nov. 11 to 15, but was postponed following the death of Bernard Tyson, chief executive of Kaiser Permanente.
Mental health clinicians have not had a contract since September 2018, according to Stacy Cohen, a mental health care manager at Kaiser's medical center on Sunset Boulevard in Los Angeles.
Hospitals and medical offices remain open: "Anyone in need of urgent mental health or other care will receive the services they require. Where necessary, we will call members to reschedule some non-urgent appointments," Annie Russell, chief operating officer of Southern California Kaiser Permanente Medical Group, said in an emailed statement.
"We have been jointly working with an external, neutral mediator to help us reach a collective bargaining agreement with the National Union of Healthcare Workers," Russell said in Kaiser's statement. "The mediator recently delivered a proposed compromise to both sides that we are seriously considering; however, the union has rejected it and announced plans to strike instead of working through the mediated process."
In addition to the wage issue, Kaiser also refused to restore pensions for mental health clinicians during negotiations that it "unilaterally rescinded" in 2015, the union said in a statement from October.
"They wanted to come back to the negotiating table, but they had a lot of conditions in order for us to come back, so at that point we said this has gone on for too long," Cohen told the Business Journal, while striking at the health organization's Panorama City location. "We're definitely open to going back to the bargaining table; we want to go back to work, but we want a fair contract. We want for them to consider the pension and then we want a commitment to more hiring."
In addition to Panorama City, the picket line are set up at five other Kaiser locations in Southern California.