Industrial Brokerage Team Exits Colliers For NKF
Monday, January 7, 2019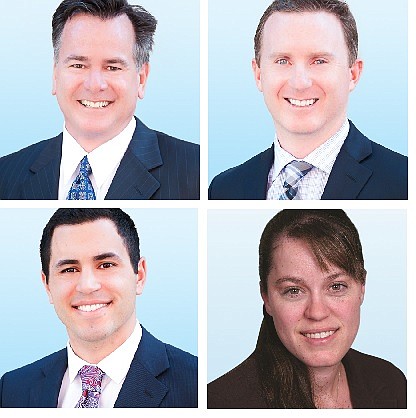 Newmark Knight Frank announced Monday that a prominent industrial real estate brokerage team has joined its ranks after a decade at Colliers International.
NKF has added John DeGrinis as executive managing director, Patrick DuRoss as senior managing director, Jeff Abraham as senior managing director and Kate Borden as brokerage services specialist. Now based in Woodland Hills, the brokerage team marks NKF's expansion into San Fernando Valley.

"John and his team will be game changers for us in the greater Los Angeles market and will be central to our expansion in the Valley," said Managing Director Phil Brodkin in a statement. "We plan to bring 10 to 15 brokers into that office. John is a strong leader to help make that happen."
Colloquially known as Team DeGrinis while at Colliers, the trio of DeGrinis, DuRoss and Abraham sold and leased more than 25 million square feet and $1.4 billion during their 10 years with the firm.
Among Team DeGrinis' most recent endeavors: opening a two-building, 255,528-square-foot warehouse complex in Sun Valley over the summer that serves as a Northern Los Angeles hub for Amazon delivery partner OnTrac; representing seller TA Realty in a $28.5 million sale of a renovated, e-commerce-ready 146,000-square-foot industrial property in Chatsworth; and exclusively representing Tejon Ranch Commerce Center in lease transactions, which included September's landing of the regional logistics operation of SalonCentrics, a subsidiary of French cosmetics giant L'Oréal, which will occupy roughly half of the new 480,000-square-foot structure at the Kern County facility.
At Colliers, DeGrinis, a commercial real estate industry veteran with 33 years under his belt, served as senior executive vice president and specialized in warehouse leasing, sales, land development and tenant representation in North Los Angeles from the San Fernando Valley to Ventura County. With 14 years of experience, DuRoss served as a senior vice president alongside DeGrinis at Colliers, where DuRoss started his career, as did Abraham, who began his career in 2008 as part of DeGrinis' team.

"Joining NKF is incredibly exciting for our team," DuRoss said in a statement. "We've collectively been with the same company for 70 years so this represents a big step for us. … We were drawn to NKF's commitment to their industrial platform. We look forward to making an impact right away."