Ventura County Collaborative Discusses Business Resiliency at Annual Meeting
Monday, January 21, 2019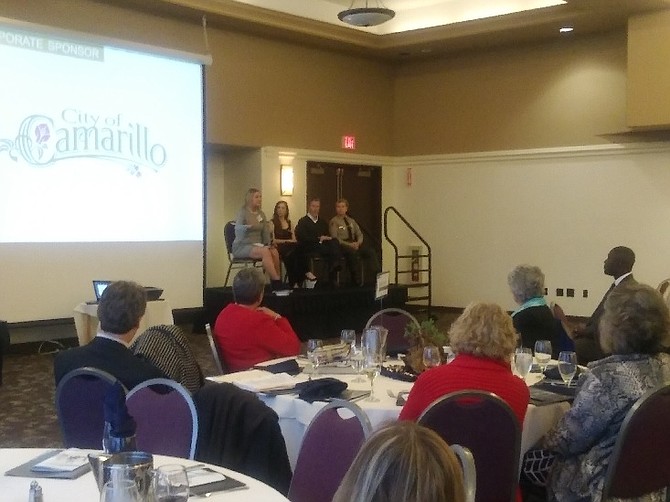 The Economic Development Collaborative Ventura County convened last week for its annual meeting to discuss "Business Resiliency: Thriving in Seasons of Disruption."
The installation and panel discussion event took place Thursday at Los Robles Green in Thousand Oaks. It was held on the 25th anniversary of the Northridge Earthquake. The program focused on the aftermath of recent regional catastrophes including the Thomas Fire, the Woolsey and Hill fires, and the mass shooting at Borderline bar in Thousand Oaks.
Although since 2013, the organization has made great in-roads in being a presence in Los Angeles County as well as in Ventura and Santa Barbara counties, Stenslie said it was important the group keep the "Ventura County" part of its moniker.
"That is our soul, that is our roots," Stenslie said.
Stenslie filled in as prime moderator in lieu of 2018 chair and event title sponsor Chris Meissner — founder of Meissner Filtration Products, a Camarillo-based company — who was away in Japan on business.
The evening's programmatic centerpiece was a panel on business resiliency moderated by Susan Andrzejewski, the recently crowned dean of the Martin V. Smith School of Business & Economics at California State University – Channel Islands. Populating the panel: Collaborative Communications Director Clare Briglio; Thousand Oaks City Manager Andrew Powers; Leslie Person-Ryan, owner of Letter Perfect Stationary in Santa Barbara; and Ventura County Sheriff's Department Undersheriff Monica McGrath.
Panelists discussed what it's like living in the new normal after a rash of trying events that hit the region in the last year.
"We're living in an environment that is fraught with disruption," said Carmen Ramirez, incoming 2019 president of the group, who was installed at the meeting along with several other officers.
Person-Ryan discussed how the December 2017 Thomas Fire and subsequent debris flow event in early 2018 affected her and her business neighbors.
Briglio stressed the importance, post-trauma, to shift from survival mode mentality to re-evaluating the business plan and working on the financials.
"I just want to make the money I used to make, I just want to have the clients I used to have," Briglio said, later adding, "It's the inability to move forward. It's evolve or die."
McGrath, who joined Ventura County law enforcement just following the November events, spoke about learning from the October 2017 Las Vegas mass shooting and applying some lessons in law enforcement triage to Thousand Oaks' Borderline bar tragedy last November.
Powers, who described himself as "the only city manager in the country to have the distinction of having a mass shooting and a fire within 36 hours," praised Thousand Oaks-based biotech giant Amgen Inc. for having an emergency back-up plan for its 7,000 employees.
Among those in attendance at the annual meeting were employees from event sponsor Limoneira Co. of Santa Paula; regional representatives of City National Bank; officials from California State University – Channel Islands and California Lutheran University in Thousand Oaks; Port of Hueneme President Mary Anne Rooney; and Moorpark City Manager Troy Brown.