Study to Examine Feasibility of Griffith Park Aerial Tram
Monday, July 29, 2019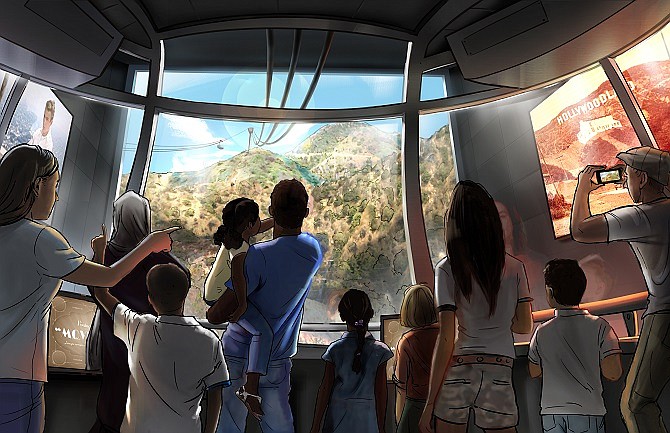 With multiple plans from private firms for aerial trams in or near Griffith Park, a city agency has commissioned a study to explore a tram line's feasibility and possible routes.
The Los Angeles Recreation and Parks Department signed a $535,000 contract earlier this month with Edmonton, Alberta-based Stantec Inc. to study aerial transit options in Griffith Park to reduce congestion and ease movement of tourists throughout the 4,200-acre site, one of the largest urban parks in the nation.
In a statement Simon Bluestone, Stantec vice president and longtime L.A. resident, said a tram "could be a game changer for park visitors and residents."
Over the last couple of years, two private sector plans have emerged for aerial tramways within Griffith Park. Burbank-based Warner Bros. Entertainment Inc. has proposed a $100 million aerial tram to ferry tourists from a parking lot next to its back lot to the north side of the summit of Mount Lee, behind the iconic Hollywood sign.
Former media executive Barry Diller and his wife, fashion designer Diane von Furstenberg, have put forward a $30 million plan for an aerial tram from the Los Angeles Zoo parking lot to the Hollywood sign.
The Stantec study will have a direct bearing on the two projects proposed for Griffith Park.
Warner Bros. spokeswoman Jessica Zacholl said the studio has done additional preliminary design and analysis work in the year since it unveiled the proposal. But the studio is now pausing the proposal to see what direction the city will take following the Stantec study.
"We believe we have the best route to the top of Mount Lee," Zacholl said.
The Diller-von Furstenberg plan has not yet entered the city planning process. An email to the office of Alexander von Furstenberg was not returned.