Business Journal Recognizes CFOs, HR Professionals at Awards Luncheon
Wednesday, June 12, 2019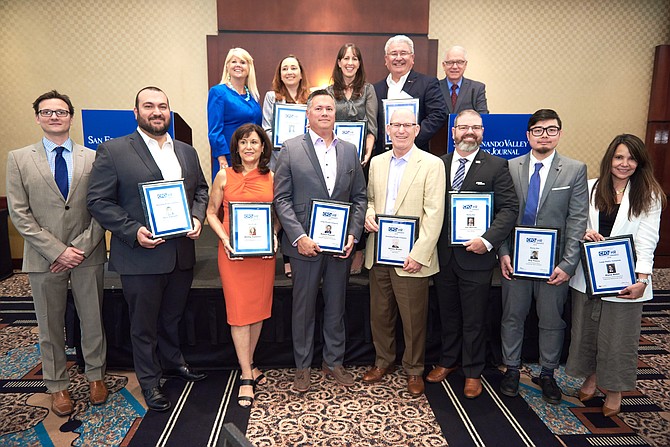 Finance and HR professionals in the San Fernando Valley gathered at the Hilton Woodland Hills for the Business Journal's annual Chief Financial Officer and Human Resources Awards ceremony on Wednesday.
The program was hosted by Business Journal Publisher and Editor Charles Crumpley, with Miklos Ringbauer of CalCPA and Danone Simpson with Montage Insurance Solutions presenting awards.
Thirteen winners were chosen out of 30 finalists based on the length of time in the industry, the impact of their work, the stability of their organization and involvement in the community.
MannKind Chief Financial Officer Steve Binder won in the Emerging Public Company category, with more than 25 years of experience in the health care industry. Prior to MannKind, Binder served as vice president and CFO at Stryker International Group, based in Singapore, and numerous leadership positions at Bristol-Myers Squibb Co.
"Hire the best, build a great team around you, let them grow and you're going to be successful," said Binder upon accepting his award.
John Lindeman, chief financial officer of Calavo Growers of California Inc., was chosen for the Large Public Company category. The winner in the Nonprofit CFO category was Lee Huey of Valley Community Healthcare.
In the HR Large Public Company category, the winner was Alana Sotiri, vice president of human resources and services for California Resources Corp. Kristina De La Vega, vice president of human resources for California State University – Northridge, was picked for the HR Professional of the Year award in the Nonprofit category. De La Vega oversees a team of more than 40 HR professionals responsible for recruiting, retaining and supporting a workforce of roughly 4,800 employees.
The other winner for HR Professional of the Year in the Nonprofit category was Shirley Cameron of Child Care Resource Center Inc. Cameron manages HR functions for the agency's more than 900 employees across 32 locations in Los Angeles and San Bernadino counties.
Michael Matzner with illi Commercial Real Estate was picked for the Emerging Private Company CFO award. Matzner has worked in property management for more than 30 years.
Sara Vigeland, vice president of Human Capital for the DLC Group, brought home the Emerging Private Company HR Professional award. Vigeland has more than 14 years of experience in finance and accounting.
Two awards went out for the Large Private Company CFO category, with Ken Menager of construction firm Bernard Bros. Inc. and Robert Purcell of Paysafe Payment Processing named as the winners. One winner was chosen for the HR Professional of the Year Large Private Company category: Orkideh Shahidi of Sada Systems Inc.
The last awards presented at the luncheon were for the CFO and HR Professional Rising Star awards. Roy Pasco of Grossman Burn Centers and Jon Barrett of Kahn Media nabbed the awards, respectively.