Venture Capital Firm Keynotes Bioscience Alliance Event
Friday, June 21, 2019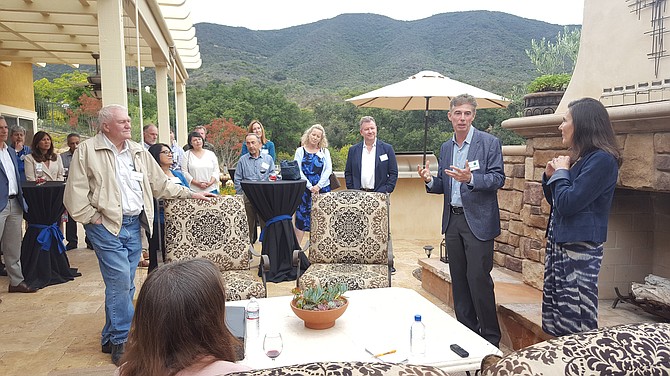 The Conejo Valley's BioScience Alliance hosted Westlake Village BioPartners, a quickly growing venture capital firm, for its meeting Thursday night.
Roughly 40 members and guests met at the home of Brent Reinke, founder and chairman of the 12-year-old organization.
Westlake Bio turned a lot of heads with its $320 million start nearly a year ago, and co-founders Dr. Beth Seidenberg and Dr. Sean Harper are household names in the industry, with decades of experience from various executive positions at Amgen Inc. Seidenberg is also a general partner at Menlo Park venture capital firm Kleiner Perkins.
Westlake Bio has not identified companies in its investment portfolio yet, but plans to list a few by the end of 2019.
Seidenberg and Harper spoke about where Westlake Bio is right now with attracting businesses to the area. Also, they said the VC firm is starting an incubator as well as graduation space for life science startups.
"We are focusing on investing in biotech companies, and our clear intent is to build as many of those companies here, in the Thousand Oaks, Westlake area, as we can," said Seidenberg.
"It's really the right time, and I hope we will act as the catalyst for all of this, by bringing the capital and expertise that we can provide, and trying to do this very, very difficult thing of forming these companies," added Harper. "We're thrilled we're here and so far everything we've seen has exceeded our expectations."
The main factor lacking in the VC firm's plans is viable space to put companies, an assessment that Reinke and many other alliance members agreed with.