Commercial Real Estate Awards Honors Valley's Best
Friday, March 8, 2019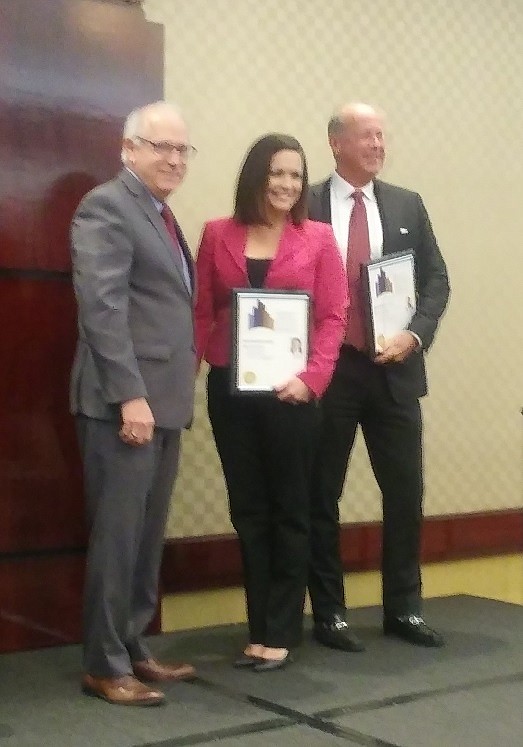 San Fernando Valley Business Journal handed out its Commercial Real Estate Awards Thursday night during a dinner event held at the Hilton Woodlands Hills hotel.
"The real estate industry has always been one of the drivers of the Valley's economy," said Charles Crumpley, editor and publisher of the Business Journal and master of ceremonies for the evening. "Tonight, we'll pay tribute to the market's top brokers and broker teams. We will also recognize the biggest, best and most notable projects throughout the region that were completed last year."
Construction firm Parker Brown of Canoga Park served as presenting sponsor. Brokerage CBRE Group in Los Angeles and Glendale, and Spectrum of Encino served as platinum sponsors. Colliers International, Kaiser Permanente, Lee & Associates and Calabasas-headquartered Marcus & Millichap comprised the gold sponsors.
Here is a run-down of the top award winners.
Brokers
 Gold award winner for Best Industrial Lease went to Scott Caswell and Erica Balin of Lee & Associates-LA North/Ventura.
 Gold award for Best Industrial Sale involved a Thousand Oaks building that sold for $6.6 million by broker Mike Tingus of Lee & Associates-LA North/Ventura along with his team member Grant Fulkerson.
 Gold award for Best Land Sale went to John Battle of Lee & Associates, who assembled land for a senior living developer in the Warner Center area. The deal involved two parcels for $19.4 million.
 Gold award for Best Medical Lease went to Yair Haimoff, executive managing director at Spectrum Commercial Real Estate, for finding space for UCLA Health at the Encino Arches on Ventura Boulevard.
 Gold Award for Best Medical Sale went to Angie Weber and Dana Nialis from CBRE, who represented the seller in a $28 million transaction for a building on the Henry Mayo campus in Valencia.
 Gold award for Best Multi-Family Sale saw Ryan O' Connor of Lee & Associates in the Sherman Oaks office win for the sale of a 33-unit complex in Palms.
 Melinda Russell of CBRE scored Best Multi-Family Sale gold for brokering the sale of Park Madera Apartments, a 169-unit complex in Port Hueneme at a price of more than $37 million.
 For Best Office Lease, Todd Doney and Matthew Hargrove of CBRE won for representing tenant Warner Bros. as well as the landlord in a 456,000-square-foot lease at Studio Plaza in the Burbank Media District.
 Gold award for the Best Office Sale went to Michael Slater, Tom Dwyer, Todd Tydlaska and Mike Logo of CBRE for representing Dole Food Co., in the $50 million sale of its Westlake Village headquarters to the Hilton Foundation.
 The Gold Award for Best Retail Sale went to Cory Stehr of Lee & Associates, who, back in 2010, first cold called the owners of Space 15 Twenty in Hollywood. Through persistence, he beat out national listing firms in late 2017 to market the property, selling the property last May for $61 million.
 Alex Forster of Colliers International scored the Rookie of the Year award. Since joining Colliers International as a research intern in August 2017 and earning his real estate license in February 2018, Forster has closed four transactions amounting to $13.9 million.
 Barbara Perrier scored top honors as Gold Award Broker of the Year. The industrial leasing broker, who began her San Fernando Valley career with CBRE 30 years ago, has been among the company's top 3 percent of producers.
Projects
 Gold Award for Best Medical Project went to Santa Clarita Medical Offices 2. Member of the development team Kaiser Permanente Capital Projects accepted the award.
 Gold Award for Best Mixed Use Project went to Talaria Burbank for a 480,000-square-foot apartment complex with a Whole Foods on the ground floor.
 The Gold Award for Best Office Project went to West Hills Medical Center for its work on a West Hills ground-up development. TriStar Realty Group, Vantage Development & Construction and Neo & Associates collaborated on that project.
 The Gold Award for Best Redevelopment Project went to Califa Core & Shell Renovation for a Van Nuys project which involved extensive renovation, including structural upgrades; new electrical, water and fire services as well as custom steel doors and windows and a new roof system. Elbar Group, Parker Brown Inc. and ShubinDonaldson Architects collaborated on the winning project.
 Gold Award for Best Tenant Improvement went to Amerihome Mortgage Co. This mortgage lender in Westlake Village is growing rapidly, and it wanted 80,000 square feet renovated in only nine weeks. JLL, Parker Brown and Klawiter and Associates worked on the project.