Nonprofit Developer Proposes NoHo Apartments
Tuesday, May 7, 2019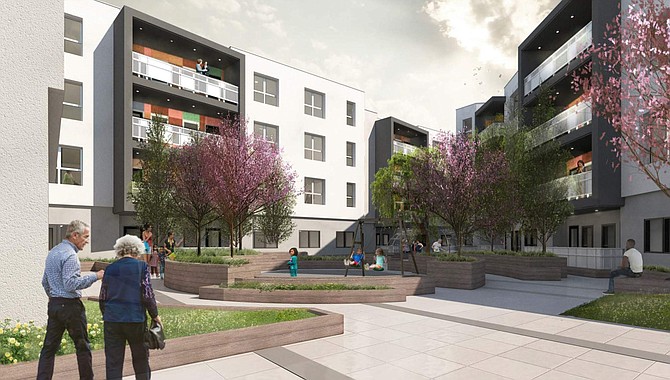 North Hills-based nonprofit developer Abbey Road Inc. has proposed to build a four-story, 103-unit affordable housing complex in North Hollywood, according to an Urbanize.LA report.
The Sun Commons project — which is designed by KFA Architecture and goes before the Los Angeles Planning Commission this week — would replace five single-family homes and two school buildings at the intersection of Clybourn Avenue and Dubnoff Way with a low-rise apartment complex.
The apartments will surround a central courtyard area while the building will have outdoor terrace levels. Sun Commons will accommodate parking for 106 vehicles.
A city staff report to the Planning Commission recommends that the project, with a budget once pegged at $53 million, should be approved.
Abbey Road works with sister organization Penny Lane Centers to create supportive housing for low-income and homeless residents. Also headquartered in North Hills, Penny Lane has satellite complexes throughout the North Los Angeles region, including in North Hollywood, Lancaster and Palmdale.