Sportsmen's Lodge to be Redeveloped
Friday, May 17, 2019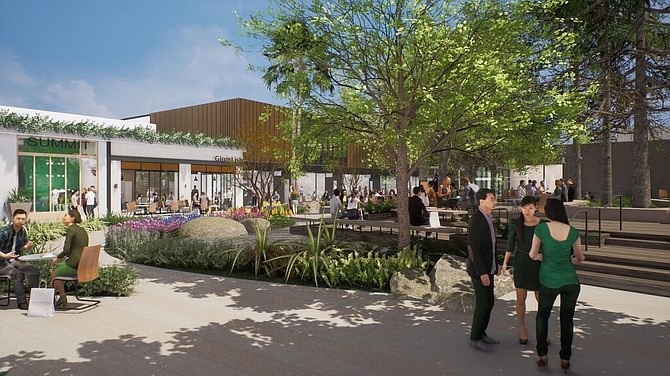 Plans to raze Studio City's iconic Sportsmen's Lodge event center and build an upscale outdoor shopping mall on the property are officially underway after years of strained negotiations and ownership changes.
The current owner, New York-based real estate firm Midwood Investment and Development, shared plans today for the development of The Shops at Sportsmen's Lodge, a $100 million project that will bring 94,000 square feet of retail, dining, fitness and communal space to the property.
Midwood has already signed two anchor tenants for the center: specialty grocery store Erewhon will take 11,000 square feet, while fitness center Equinox will fill a 30,000-square-foot club setting that includes a member lounge, spa, café and athleisure shop.
In all, the revamped center will house an estimated 23 stores.
The adjacent Sportsmen's Lodge Hotel will remain open. It is not part of the redevelopment.
Additionally, the existing parking lot will be expanded to over 450 spaces and moved to the edge of the property as to not disturb the center's outdoorsy aesthetic.
Groundbreaking is scheduled to commence in August, with an estimated opening set for fall 2020.
"The redevelopment of The Shops at Sportsmen's Lodge marks an important milestone for our firm and Studio City," said John Usdan, chief executive of Midwood Investment and Development, in a statement. "We are looking forward to making it a central gathering place for the community and provider of amenities for those who live and work in the area."
Sportsmen's Lodge on Ventura Boulevard was founded in the late 1930s as a roadside trout fishing attraction and evolved over time into a social events center popular for weddings, bar mitzvahs and other celebrations.
It was extensively damaged in an electrical fire in January. A spokesperson said the fire had no material affect on the redevelopment plans.
It's redevelopment into a mall has not been without road bumps. Last October, Midwood's preliminary landscaping designs for the retail center were stymied by the Los Angeles Cultural Heritage Commission, which felt the project was not made in the spirit of the original Sportsmen's Lodge. Midwood quickly developed new plans based on the commission's recommendations. These were approved in November 2018.