Hub101 Hosts Panel on Cybersecurity
Friday, November 8, 2019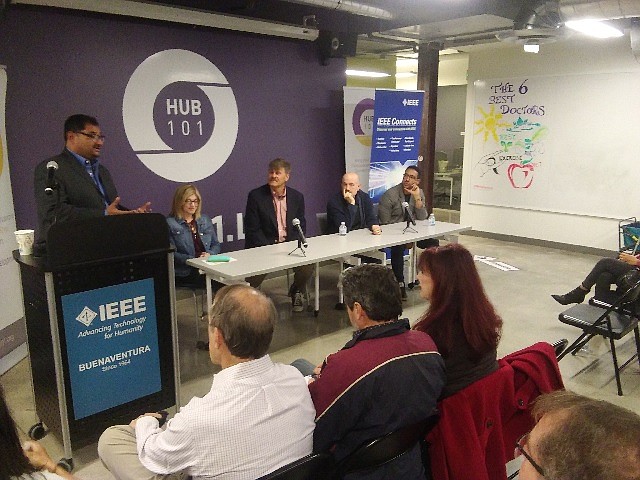 The School of Management at California Lutheran University in Thousand Oaks hosted the event "Cybersecurity – a Boardroom Topic" at Cal Lutheran's Hub101 startup coworking incubator facility in Westlake Village on Thursday evening.
The university's Sumantra Sengupta, assistant dean of National Recruiting and director of MBA Programs, moderated the discussion, which included the participation of panelists Professor Jeffrey Detweiler, who teaches at the School of Management; Christien Rioux, co-founder of cybersecurity company Veracode; Marina Lubinsky, senior vice president and chief information officer at Calabasas-based Cheesecake Factory; and Art Alvarez, mobility security engineer at Intratem.
Sengupta asked the panelists, "What keeps you up at night? What should we expect as consumers?"
"I don't think there's any silver bullet," the restaurant company's Lubinsky said, to dealing with hackers and ransomware targeting her company.
She added that the question is not "if" but "when."
"We're trying to do everything we can," she said. "We are trying to not have any customer data stored."
Detweiler noted: "(Hackers) will stalk you for months before they (deploy) ransomware. We need to be proactive and we have to be reactive."
He said he worries that the Internet of Things, or devices talking to other devices, will create new-generation problems compromising cybersecurity moving forward.
"The makers of some of these devices have to take on responsibility," Detweiler said.
Rioux recommended to the crowd of 35 in attendance that the less applications on one's phone, the less likely one can be effectively targeted by hackers. The Veracode founder also advised not to keep bank or other financial apps on their phones, and to eschew invasive smart devices such as Amazon's Alexa and Echo, which, if used maliciously in a backdoor way by a black hat, could compromise a household's privacy. Thanks to the Internet of Things, "(consumers have) opted into having large corporations go into their houses," Rioux said.
An audience member asked the panel how difficult it would be for a hacker to infiltrate a computer device's root kit, or core network.
Rioux added that thanks to "sandboxing" and "containization," getting at the root kit is not so easy, as ever-changing blockchain encryption runs six or seven layers deep.
"It's very difficult to backdoor hack these days," Rioux said.
Sengupta asked the panelists what managers should do today to prepare for five years in the future.
Alvarez said that in a few generations, people will overcome the myriad phishing schemes that black hats use to steal confidential information.
"A lot of hackers today, they will always be five steps ahead of you," he said. "But I think people are getting smarter."
"We're headed in the right direction," Detweiler added. "It's just going to take some time."