Economist Recommends Housing to Correct Ailing Ventura County Economy
Thursday, November 14, 2019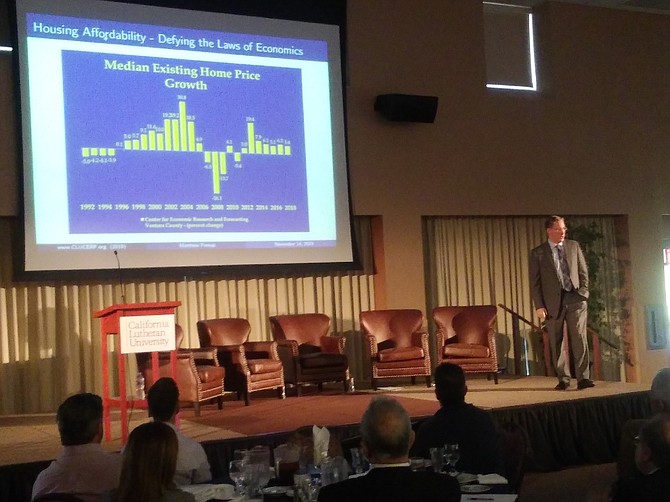 Matthew Fienup, executive director of the Center for Economic Research and Forecasting at California Lutheran University, shared his annual breakdown of the dynamics affecting the economy on the national, state and Ventura County levels Thursday afternoon, and the local forecast was overall bleak but cemented by an optimism over how best to remedy a situation which essentially boiled down to "build more housing."
Before some 260 people in attendance at the Padre Serra Center in Camarillo, Fienup delivered his 2019 Ventura County Economic Forecast, informing his audience that the local economy "has been in a recession," pointing to a growth rate that is hovering just above zero, on par with the last five years. "This is the weakest period for which we have data," he said.
Fienup began his talk by examining the big picture.
"A year ago, there was a surprising degree of optimism on the CERF team," he said, noting that on the national level, the forecasters were bullish on the incoming corporate tax reform while stocks hit an all-time high and unemployment hit record lows.
However, Fienup slowly built his case that economic observers must look beyond the low interest rate-driven stock market, dipping unemployment rates and even the inverted yield curve in determining the health of an economy and investigate "what's happening to the labor force."
"Stock prices are disconnected from the fundamentals," he said.
The labor force, Fienup continued, has deteriorated and will continue to diminish as 350,000 baby boomers, akin to the population of Anaheim, exit the work force each month.
On the state level, CERF foresees 2.6 percent growth, which Fienup said "is not strong growth and very below the 3.5 percent or 4 percent growth potential of California."
For the past five years, Ventura County economy's has been flat, and driving that has been a lack of development compounded by a housing crisis shortage, diminishing population and birth rates, and more people leaving California than moving into the state.
"The population in Ventura County has declined for the first time in history," Fienup said, with population loss largest in the cities of Ventura and Thousand Oaks, which Fienup chalked up to the 2017 Thomas Fire and the 2018 Woolsey Fire, respectively.
"A strong economy can withstand the outside shocks," Fienup said.
In his introduction to Fienup, CERF Director Dan Hamilton said that May statistics identified that the Ventura County population has contracted.
"It's quite striking and speaks to sort of the status of Ventura County," he said, adding that in the last four years, more and more people are leaving the region than moving into it.
Fienup's talk followed a presentation by Fienup and David Hayes-Bautista about the robust U.S. Latino Gross Domestic Product, which has seen rapid growth at double the non-Latino rate and totaled an estimated $2.3 trillion in 2017.
"If it were its own independent country, it would be the eighth largest in the world," Fienup said.
The event also included a panel moderated by former Ventura County Star editor and publisher Tim Gallagher, which included Nick Deitch of Mainstreet Architects and Planning; Penelope DeLeon of Oxnard Union High School District; Drew West of Trade Desk; and Fienup.
Dietch outlined that "fear is preventing the region from moving forward on development." With visual aids, he presented his vision of "thoughtful urbanism," using Johnson Drive and Pacific View Mall, both in the city of Ventura, as examples of areas that could be smartly redeveloped. With the latter site, where in the past week it was announced that the Sears was closing, Dietch suggested taking those 100 acres and redeveloping it in the vein of Vauban, a sustainable model district in Germany.
"Instead of watching it die, let's have a conversation of what it could become," he said.
Dietch reinforced Fienup's main message that "a tremendous lack of housing" needs to be addressed.
"We need everything from tiny houses to penthouses," Dietch said.
Counter to NIMBY fears, Fienup — who with Gallagher recently announced the formation of a community land trust — argued that an increase of investment and development in the region would not bring on increases in traffic but would in fact diminish traffic by relieving people from commuting on the 101 freeway and keeping them closer to home. Instead, retirees are the ones coming to Ventura County while those earning $10,000 to $75,000 annual salaries are leaving the region in droves.
"When we claim to preserve quality of life, whose quality of life are we preserving?" Fienup asked. "This is not a broadly shared quality of life."
Exiting Cal Lutheran University President Chris Kimball praised Hamilton and Fienup in his introduction, "They have consulted on everything from water to housing" and such projects as Fienup and Gallagher's recently announced New Generations of Ventura County evinces "not just data but the application of research."
"We see zero growth for the next forecast period," Fienup said, ultimately warning that if CERF data is off by a few percentiles, "this could go negative."