Calabasas City Council Puts Housing Project on Ballot
Friday, November 22, 2019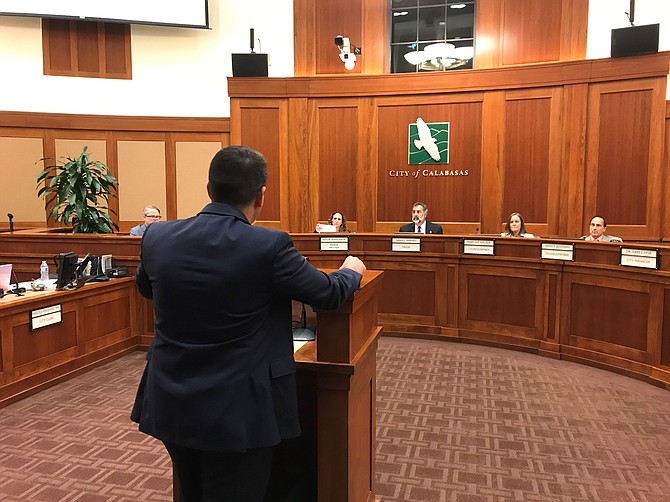 Following a contentious meeting Thursday night, the Calabasas City Council decided by a 3-2 vote to put a proposal about adding 11 buildings with 161 housing units on the ballot for city voters next March.
The issue before the Council centered on Avalon Bay apartments. The complex currently has 80 affordable housing units, but they will revert back to market-value apartments in June. That could imperil the city of Calabasas's standing with the state of California, because of requirements for affordable housing.
If the proposed expansion is approved, the Avalon Bay complex would total 721 apartments.
Calabasas has garnered attention from both Los Angeles County and the state for its inability to meet the minimum affordable housing goals.

The 2014-22 Regional Housing Needs Assessment cycle requires Calabasas to construct 330 new units, 199 of which would be rent-restricted affordable housing. So far in that time period, Calabasas has lost a net total of 146 affordable housing units. The city has approved only nine affordable units since 2014.
Now, 120 affordable units are set to expire in June. These 120 units account for 60 percent of the affordable units in Calabasas.
At the meeting, proponents and protesters of the development virtually broke along generational lines, with senior residents fearing the new development will increase the danger factor in the wildfire zone while younger locals, many of them residents at the Avalon Bay complex, wanting to see some 80 families represented by these units stay put and not be subject to unprotected rent increases which would price them out of the market.
Attorney Edgar Khalatian, partner at Mayer Brown's Los Angeles office, spoke on behalf of Avalon Bay.
Mayor David Shapiro and Councilmember Fred Gaines voted in favor of the apartment expansion, while Councilmembers Alicia Weintraub, Mary Sue Maurer and James Bozajian vehemently opposed the development. The opposition focused on the rushed process in which the developer bypassed the normal rounds of committee phases and public meetings and cutting out community input.
"Avalon has created a phony crisis (to bypass) the years-long process," said Bozajian, who found the 2,000 required signatures collected by the developer dubious, adding that the Avalon Bay was instead driven by its "internal financial calculus." He called Avalon's efforts exploitative, manipulative and "reprehensible and deplorable."
If passed, he continued, "it would send a horrible precedent" and inspire other developers to follow suit in Calabasas.
Gaines, on the other hand, made an impassioned plea to push the project through.
"It's not some gigantic project," he said. "There's virtually no grading (and) it preserves the 80 affordable units."
He implored the group to pass the project as "before us is our constituents with a real need," he said. "Families, women with children."
Gaines also chastised himself and his fellow councilmembers for not doing more to keep up with the affordable housing quota.
Also supporting the development is L.A. County Supervisor Sheila Kuehl, represented at the meeting by Molly Reisman; Valley Industry and Commerce Association, repped by Legislative Affairs Manager Armando Flores; and United Way of Greater Los Angeles, which sent field officer Corrine Ho to address the council.
If the development fails to happen and Calabasas falls short of its minimal affordable housing obligation, it could subject the city to a whole line of county and state penalties, including limits on funding and lawsuits from the State.
"They're already suing cities for non-compliance," said Shapiro, who at one point asked city staff on whether they would recommend the development. City Planner Tom Bartlett and Senior City Planner Michael Klein, on behalf of their team, thought the project should be approved.