Locally Made Craft Headed for Mars Gets Name
Wednesday, April 29, 2020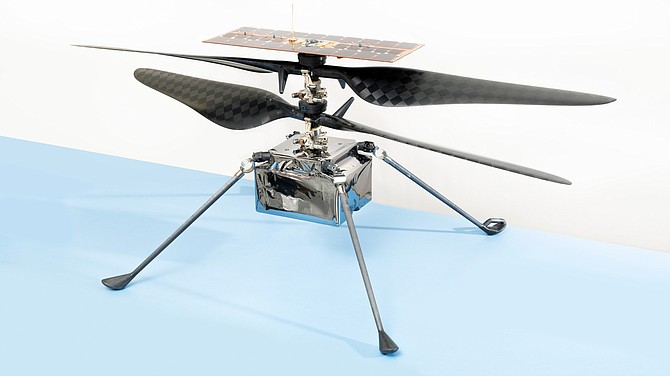 The helicopter developed in Simi Valley by AeroVironment Inc. that will be aboard the next Mars Rover has a name – Ingenuity.
The name was announced Wednesday by NASA Administrator Jim Bridenstine, who chose it from a submission by Alabama high school student Vaneeza Rupani.
"Ingenuity encapsulates the values that our helicopter tech demo will showcase for everyone when it takes off next year as the first aircraft on another planet's surface," Bridenstine said in a statement. "It took a lot of hard and ingenious work to get the helicopter ready and then placed on the rover, and there's a lot more going to be required."
Ingenuity's airframe and major subsystems, including its rotor, rotor blades, hub and control mechanism hardware, were designed and developed by AeroVironment in Simi Valley in conjunction with the NASA Jet Propulsion Laboratory in La Cañada-Flintridge.
Additionally, the company developed and built high-efficiency, lightweight propulsion motors, power electronics, landing gears, load-bearing structures and the thermal enclosure for JPL's avionics, sensors, and software systems
Rupani's submission was among the 28,000 essays received by NASA as part of the naming of the Mars Rover, which is called Perseverance. But with so many good essays, NASA officials went back to them to choose a name for the helicopter that will accompany the Rover, the space agency said.
Perseverance, with Ingenuity attached to its belly in a protective cover, will launch in July from Cape Canaveral Air Force Station and land on Mars in February.
Shares in AeroVironment (AVAV) closed up by $2.45, or just more than 4 percent, to $61.32 on the Nasdaq on Wednesday, a day when that stock exchange increased by 3.6 percent.