City Council Approves Promenade 2035 in Woodland Hills
Wednesday, December 2, 2020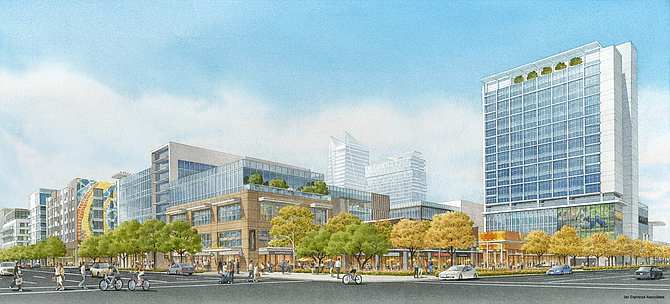 Los Angeles City Council voted Wednesday to approve the huge and long-deliberated Unibail-Rodamco-Westfield project Promenade 2035 at Warner Center.

The City Council upheld an approval already given by Los Angeles City Planning Commission to advance with the latest version of Westfield's massive $1.5 billion mixed-use project, which includes the overhaul of the existing partially dormant Westfield Promenade mall into a commercial community of residential units, retail, office tower, hospitality and a stadium.

The sign-off from the city now allows Westfield to implement its plan, which the company promises will result in thousands of jobs, millions in new tax revenue, and hundreds of much needed housing units.

In a company statement, Unibail-Rodamco Westfield's Senior Vice President of Development Kim Brewer thanked the City Council as well as Councilmember Bob Blumenfield, who was instrumental in creating the Warner Center 2035 Specific Plan to redevelop Warner Center into the epicenter of the San Fernando Valley.

"This decision marks nearly four years of public review of the project, which has been shaped by over two decades of input from our neighbors in the Warner Center," Brewer said. "These challenging times make it even more critical to support continued investment in our city. This project represents over $1 billion in investment in the San Fernando Valley and is a model of how the city, community and businesses can come together to create a shared vision."  

Added Blumenfield in a statement, "With thousands of new housing units, job opportunities for our community, and a place-making new entertainment center, the Westfield Promenade 2035 project is a game-changing development for the West Valley. Our housing affordability crisis will only be solved by building affordable units, and this project includes the very first affordable

housing in Warner Center. Thanks to Unibail-Rodamco-Westfield for working so closely with me and the community stakeholders to design a project that helps meet this urgent need."

Located between Oxnard Street and Erwin Street from south to north and between Topanga Canyon Boulevard and Owensmouth Avenue from west to east in Woodland Hills, Westfield Promenade is near two Westfield retail centers to its north: The Village at Westfield outdoor mall and Westfield Topanga indoor mall.

With Promenade 2035, Unibail-Rodamco-Westfield plans to create a 34-acre entertainment center to include shops, cafes, grocery store, interlacing walkways and 10 acres of landscape and public plazas. The blueprint also calls for 1,400 apartments (including 162 lower-income units); a 5,000- to 10,000-seat entertainment and sports center; and a 25-story, 731,500-square-foot office tower as well as a 572-key hotel. Promenade 2035's parking capacity will accommodate 5,655 vehicles.

Westfield estimates construction of Promenade 2035 will create more than 10,800 construction jobs and 9,700 permanent jobs upon completion. The retail property developer also believes Promenade 2035 stands to generate an estimated $1.9 billion in total economic output and roughly $17.2 million in net new annual revenues to the city's general fund.