Former Sunkist Headquarters in Sherman Oaks Wins Redevelopment Approval
Thursday, February 6, 2020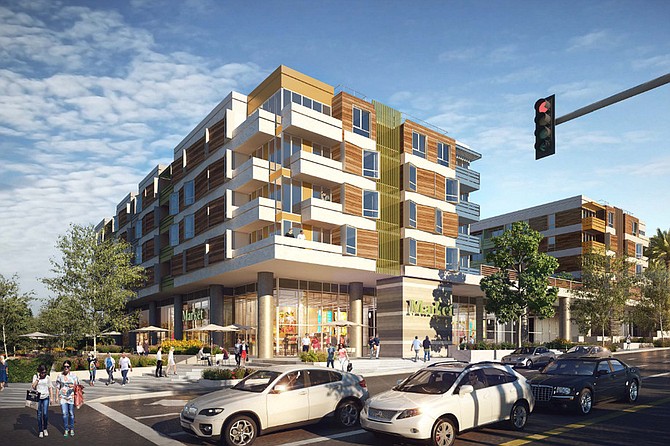 Developer IMT Capital's mixed-use re-imagining of the former Sunkist headquarters in Sherman Oaks secured approval from Los Angeles City Council's Planning and Land Use Management Committee on Tuesday.
Located at Hazeltine and Riverside Drive, the development — which envisions residential units, restaurants and retail posited around an office building that once served as home to Sunkist Growers until the citrus company relocated to Santa Clarita Valley in 2014. Sunkist is now located at 27770 Entertainment Drive in Valencia.
Sherman Oaks-based IMT purchased the former Sunkist site in 2013. The 127,000- square-foot building will be renovated and used for office space, but will be flanked by two new office buildings.
For several years, there has been major pushback by residents who live on the periphery of the project. They cited such factors as traffic congestion and construction inconvenience and noise as too disruptive. At public neighborhood meetings, locals were vocal in their distaste for the project, which in its current iteration will deliver 249 housing units; 27,500 square feet of retail, restaurants and a grocery store; and 1,141 parking spaces. In fact, the developer was forced to downsize the residential component from its original 298 residential units.
What helped sweeten the deal for Sherman Oaks residents was IMT's plan to incorporate a 28,000-square-foot park connecting to the Los Angeles River as a buffer zone to reduce noise and visual pollution for a cul-de-sac of houses along the project's northern border.
"The IMT Sunkist project is an example of the positive results that can be accomplished when a developer, their architects and the community work together," Sherman Oaks Neighborhood Council PLUM Committee Chair Jeff Kalban told the Business Journal. "This project will have a true community benefit, a beautiful park with areas to sit, stroll and have a bit to eat that will run from the L.A. River along Hazeltine Avenue to Riverside Drive and maintained in perpetuity by the developer."
The IMT plan must next must obtain approval from Los Angeles City Council.
Said Kalban, "The response from the community now is very positive. Instead of questioning the merits of the development, I am now asked, 'When will it be built?'"