Valley's Stellar Economic Growth Now Slowing a Bit, Economist Says
Wednesday, January 15, 2020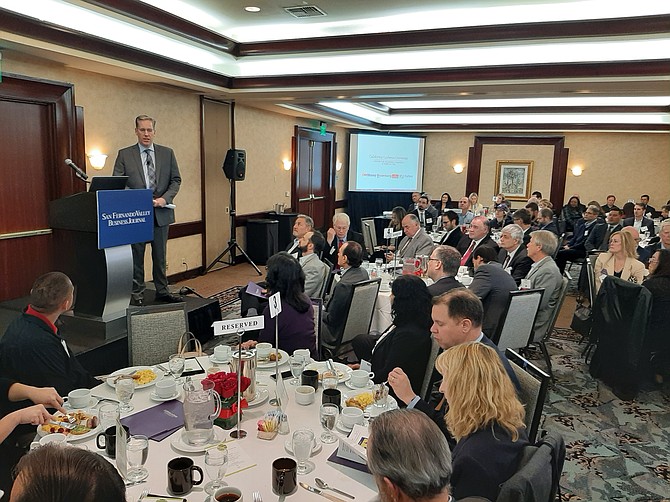 While economic growth in the San Fernando Valley is facing a slowdown, growth of 3.4 percent for this year would still outpace the state and nation.
That is the outlook from Matthew Fienup, executive director of California Lutheran University's Center for Economic Research and Forecasting. He presented his findings at the Business Journal's Valley Economic Forecast on Wednesday, saying this year's expected growth will be less than last year's 3.9 percent growth and the 4 percent average over the last five years.

He said the slower pace of growth may seem disappointing, but "this is still a bullish forecast relative to any comparable geography."
The Los Angeles / Orange County metro area is expected to grow only 2 percent this year. Likewise, California and the United States are expected to grow 2.5 percent and 1.8 percent, respectively, he said.
Likewise, next year the Valley economy is forecasted to grow by 3.1 percent – faster than the others.
Fienup, who prepared the economic assessment and forecast with Dan Hamilton, also an economist with the economic research center at the university in Thousand Oaks, presented his findings to about 130 business leaders at the Hilton Woodland Hills hotel.
He said there is a "growth premium" of about 33 percent in the San Fernando Valley.
"What we see in California is a more rapid erosion. I expect the San Fernando Valley will grow more rapidly than the state of California in the years ahead."
The economist compared the Valley's growth premium to Silicon Valley.
The Valley saw an increase in job growth too, with utilities positions in the lead at 8.3 percent. Transportation positions as well as warehousing and construction saw an uptick of 6.6 and 5.5 percent respectively.
Business investment growth throughout the country and in California and the Valley are hampered by the so-called trade war, particularly with China, Fienup explained.
Overall, the Valley is enjoying economic strength that is "broad based and enduring," with nearly every industry sector experiencing gains in output. Agriculture and resource extraction was the only sector that saw a decline in economic output, Fineup said.
Fienup's full report will be published in the Feb. 3 issue of the Business Journal.