Rocket Laden With Valley Components Lifts Off
Thursday, July 30, 2020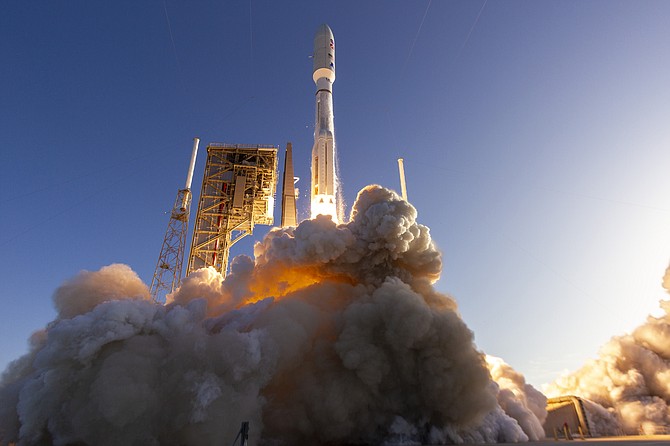 The Atlas V rocket with the newest Mars rover on board successfully took off Thursday morning from Cape Canaveral Air Force Station in Florida. The launch is of interest locally because of the many components created by Valley area companies.
The Perseverance rover begins a seven-month journey to the red planet and is scheduled to land in February at the Jezero Crater and begin its mission of searching for signs of life.
Thomas Zurbuchen, associate administrator for NASA's Science Mission Directorate, said the crater is the perfect place to look for signs of ancient life.
"Perseverance is going to make discoveries that cause us to rethink our questions about what Mars was like and how we understand it today, Zurbuchen said in a statement.
Powering the rover is the Multi-Mission Radioisotope Thermoelectric Generator, a plutonium powered engine that was built by Aerojet Rocketdyne Holdings Inc. at its Chatsworth campus. Contributing to the generator was Teledyne Energy Systems Inc., a subsidiary of Teledyne Technologies Inc., in Thousand Oaks.
And traveling aboard Perseverance is Ingenuity, a space helicopter developed and built by Simi Valley drone manufacturer AeroVironment Inc. for the Jet Propulsion Laboratory, which is overseeing the rover mission.
Also contributing to the rover was Northrop Grumman Navigation Systems in Woodland Hills, where the LN-200S inertial measurement unit was designed. The unit provides attitude and acceleration information used by the rover's computer for guidance.
Brandon White, vice president, navigation and positioning systems, Northrop Grumman Mission Systems sector, said the success of this mission is directly linked to the proven reliability of Northrop's inertial navigation products.
"NASA/JPL came to us for its historic Mars missions because of the extended performance capabilities of our LN-200S," White said in a statement. "We will be anxiously awaiting to see what the Perseverance discovers, as will the rest of the world."
Additionally, Saalex Solutions, a division of technology services provider Saalex Corp. in Camarillo, had its Expendable Launch Vehicle Integrated Support 3 (ELVIS 3) team assist the mission by providing engineering and technical integration as well as launch site and Perseverance rover preparation.
"We're providing engineering technical integration and mission integration coordination services as an integral part of the Mars 2020 Mission Integration Team and Atlas V launch vehicle team," said Kathleen Wilcox, ELVIS 3 program manager.
For more on Valley area companies and their contributions to the Perseverance rover, see the Aug. 3 issue of the Business Journal.