Developers Close Escrow on Needham Ranch's Phase II Land
Tuesday, May 12, 2020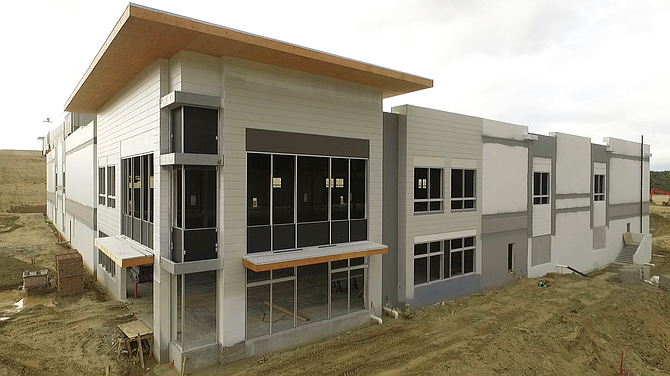 Trammell Crow and Clarion Partners have closed escrow on a 137-acre parcel of land at Center at Needham Ranch that will pave the way for the completion of the 252-acre industrial park's second phase. Financial terms of the transaction were not disclosed.
The additional acreage will underly five or six more buildings at the Santa Clarita Valley business ranch, located at the intersection of Needham Ranch Parkway and Sierra Highway along the 14 freeway.
CBRE Group's Craig Peters and Doug Sonderegger, the brokers handling leasing on the project, also transacted the land sale.
In January, Peters, who is based out of CBRE's Glendale office, told the Business Journal that the Center at Needham Ranch is designed to attract entertainment and e-commerce tenants. He also explained that the Phase II portion will either sub-divide among multiple tenants or become a campus for one prime tenant.
"We are pleased to have closed escrow on the second and final phase of land for our state-of-the-art industrial park," said John Balestra, principal with Trammell Crow's SoCal – Los Angeles Business Unit. "As one of the largest undeveloped fully entitled industrial development sites in Southern California, we are looking forward to proceeding with the second and final phase of this long-planned development."
In a statement, the developers spoke about the lack of inventory around Los Angeles for such industrial-sized production or distribution spaces. Clarion Partners Senior Vice President Michael Marrone said: "There are many advantages to businesses operating in the city of Santa Clarita, including a lower cost of doing business, a tax incentive credit program, film and television production credits, and research and development tax credits."
The Center at Needham Ranch lies within the famed "30 mile zone" for Hollywood film and TV production.
An entertainment-adjacent company — stage lighting equipment supplier Illumination Dynamics — was the first tenant to set up shop at the Center at Needham Ranch, absorbing 67,000 square feet at 21335 Needham Ranch Parkway. Prior to the move, Illumination Dynamics was based in the city of San Fernando.
Construction on Phase II, which is fully entitled for up to 2.5 million square feet, is on track to begin this summer.