Westfield Unveils New Renderings of Promenade 2035
Thursday, May 21, 2020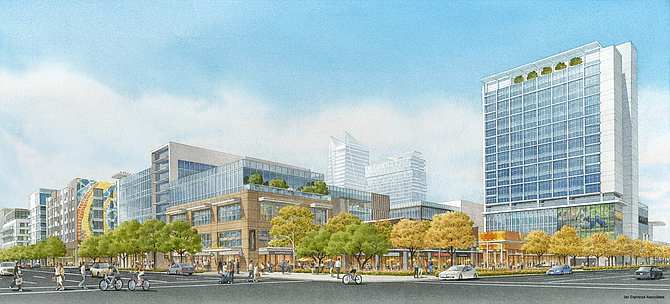 Shopping mall developer Unibail-Rodamco-Westfield has unveiled new illustrations for Promenade 2035, its 34-acre mixed-use complex in Warner Center that will replace the current Westfield Promenade mall.
The $1.5 billion development, which will include roughly 1,400 residential units, 280,000 square feet of retail and restaurant space, 731,500 square feet of offices and a 572-key hotel, will also include a 10,000-seat entertainment and sports center and a 5,655-vehicle parking area.
The complex will abut Westfield's 2016-completed outdoor mall Westfield Village. Just north of the Village retail center is Westfield's venerable indoor mall, Westfield Topanga, which is currently going through a $250 million renovation.
Different components of the Westfield Promenade 2035 project — which has gone through its share of revisions and adjustments based on community input since the proposal was submitted to the city of Los Angeles in 2016 — are being designed by architecture studios Johnson Fain, HKS Architects and Togawa Smith Martin.
Construction launches in multiple phases beginning in 2021.
Entitlements for the project will go before a Los Angeles City Planning Commission hearing May 28.