Promenade 2035 Project Passes Planning Commission With Unanimous Vote
Friday, May 29, 2020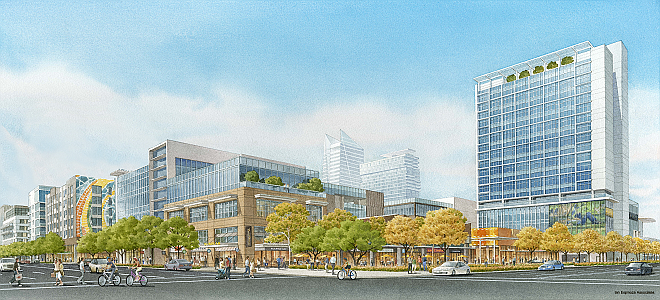 Westfield's Promenade 2035 project has passed an important milestone after a unanimous vote during its entitlements hearing with the Los Angeles City Planning Commission.
On Thursday, with seven commissioners voting and one commissioner — David Ambrose — having left the hearing, the Planning Commission voted for the project.
Shopping mall developer Unibail-Rodamco-Westfield recently unveiled new illustrations for Promenade 2035, its 34-acre mixed-use complex in Warner Center that will replace the current Westfield Promenade mall.
The $1.5 billion development will include in roughly 1,400 residential units, 280,000 square feet of retail and restaurant space, 731,500 square feet of offices and a 572-key hotel. The development also features a 10,000-seat entertainment and sports center and a 5,655-vehicle capacity parking area.
Executive Vice President of Development for Unibail-Rodamco-Westfield Larry Green said in a statement: "All of us at Westfield would like to thank the commissioners, city (of Los Angeles) staff and Councilmember Bob Blumenfield for their effort to keep projects and investment in our community moving forward and to ensuring that a diversity of voices are heard during this unprecedented time.
The modified project reflects years of community input and discussion with our neighbors and valley stakeholders, and is in keeping with the goals of the Warner Center 2035 Specific Plan."
If all continues smoothly with the city of Los Angeles bureaucratic process, construction on Westfield's ambitious Woodland Hills project launches in multiple phases beginning in the 2021-2022 frame.
Green added that he expects the Westfield development to create more than 10,800 construction jobs and upwards of 9,700 permanent jobs once work on the project takes flight.
"We take great pride in the tremendous support we have received from residents and community leaders across the San Fernando Valley and are excited to move forward with plans which reflect their vision for the Promenade property," Green said.