Record Flight for Electric Airplane at Camarillo Airport
Tuesday, October 13, 2020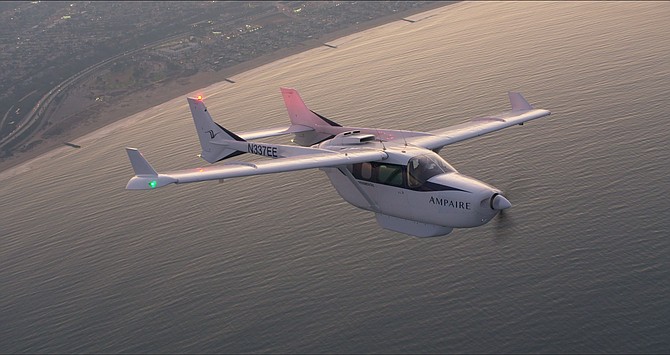 A hybrid-electric powered aircraft developed by Ampaire and launched from Camarillo Airport completed the longest flight to date for an airplane employing electric propulsion, the company announced Monday.

The Oct. 8 flight piloted by Justin Gillen and Russell Newman took off from Camarillo and landed 2 ½ hours later at Hayward Executive Airport in the San Francisco area after flying up the Central Valley at 8,500 feet.

The pair flew the Electric EEL, a six-seat Cessna 337 twin engine aircraft modified with an electric motor in the nose and a combustion engine in the rear.

The milestone in electric aviation took place after four weeks of flight testing in the Camarillo area. In that time, the aircraft flew more than 30 hours during 23 flights in 28 days, the Hawthorne company said in a release.

The aircraft will now be partially disassembled for shipment to Hawaii where it will be used in a series of demonstration flights with Mokulele Airlines on its short-haul routes.  

The Electric EEL can generate fuel and emissions savings of about 30 percent on longer regional routes such as the Camarillo to Hayward flight, and savings of up to 50 percent on shorter regional routes where the aircraft's electrical propulsion system can be run at high power settings.

"The ability to put innovative electric technologies into the air rapidly in order to assess and refine them is central to Ampaire's strategy to introduce low-emissions aircraft for regional airlines and charter operators within just a few years," Ampaire General Manager Doug Shane said in a statement.