Gelt Buys Oregon Multifamily for $30 Million
Monday, September 21, 2020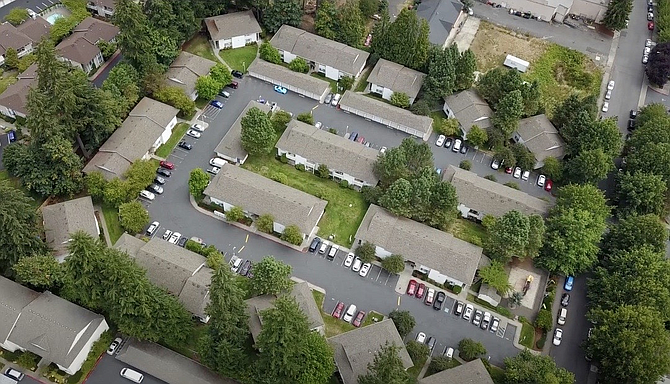 Tarzana-based real estate firm Gelt Inc. has made a $30 million investment in Gresham, Ore. with the acquisition of Silverwood Apartments.
Located at 4777 SW 11th St. in Gresham, the new asset has 164 apartments, with 159 two-bedroom units, three one-bedroom units and two three-bedroom units. The property includes 32 buildings on nearly 9 acres.
The acquisition required the firm "to be much more conservative with our projections," according to Jeff Harris, partner with Gelt, in a press statement. "However, as a function of the good basis we bought the property for, a strategic business plan to capture significant value-add upside, and a desirable interest rate, we were able to forecast overall returns that met our desired yield requirements."
Gelt intends to make cosmetic improvements to the units' interiors during the next few years. Projected renovations include new vinyl plank flooring, stainless steel appliances, cabinet faces, backsplash and ceiling fans.

On the exterior, there will be a new paint job and a refreshment of the existing pool and playground areas. Also, the firm will rebrand the asset, which will mean new signage.
Gresham borders the eastern edge of Portland, which is home to the headquarters of such Fortune 500 companies as Nike and Lithia Motors.
This acquisition marks Gelt's second apartment community in the town of Gresham. The Tarzana firm also owns Powell Valley Apartment Homes, a 228-unit property acquired in 2016.
Tyler Johnson, Rob Marton and Greg Frick of HFO represented both Gelt and the seller, a private individual who had owned the Silverlake property for more than 25 years.
"We are cautiously navigating this new economic environment, but we continue to have confidence in favorable multifamily fundamentals over the long term in markets with job and population growth," Gelt Director of Acquisitions Josh Satin said in a statement. "Over the next 12 months, we are looking to acquire $250 million in assets."