Valley's Disney Stores Close as Target Expands Partnership
Tuesday, August 24, 2021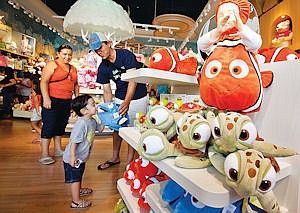 Three remaining Disney Stores in the greater San Fernando region are set to close next month, while Target plans to open more sections in its stores featuring merchandise from the Burbank entertainment studio.

The stores at Westfield Fashion Square in Sherman Oaks, the Oaks shopping center in Thousand Oaks and the Valencia Town Center in Valencia will close on or before Sept. 15, according to the Disney Store website.

The store at the Camarillo Outlet mall will remain open, while the Disney Baby store at the Americana at Brand in Glendale had already closed.

In March, Disney announced it would close 60 stores this year to focus on its e-commerce business.

At the time of the announcement, Stephanie Young, president of consumer products, games and publishing at Disney, said the global pandemic has changed what consumers expect from a retailer.

"Over the past few years, we've been focused on meeting consumers where they are already spending their time, such as the expansion of Disney store shop-in-shops around the world," Young said in a statement. "We now plan to create a more flexible, interconnected e-commerce experience that gives consumers easy access to unique, high-quality products across all our franchises."

Target Corp. announced on Monday it will expand its partnership with Disney to bring 160 Disney stores to its locations across the country. In 2019, the retailer opened the first 25 Disney stores inside its stores along with an online shop.

Shares of Walt Disney Co. (DIS) closed Tuesday up 81 cents, or less than a percent, to $178.47 on the New York Stock Exchange, on a day when the Dow Jones closed up a fraction of a percent.