L.A. Kings, ASEC to Operate Rescued Santa Clarita Ice Rink
Wednesday, February 24, 2021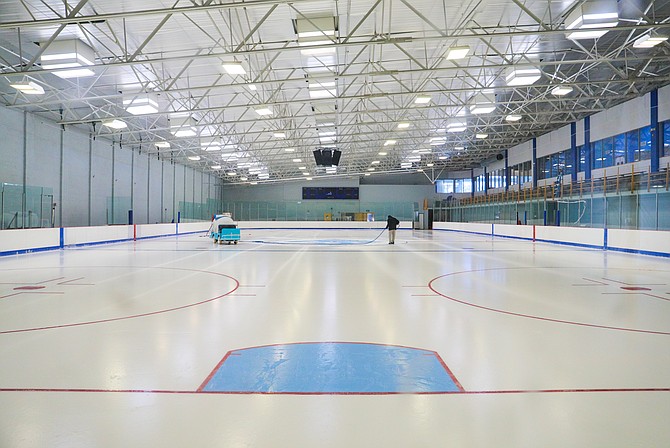 The city of Santa Clarita has awarded a contract to Los Angeles Kings and American Sports Entertainment Co. to operate an ice rink the city rescued in the fall.

Assistant City Manager Frank Oviedo on Wednesday told the Business Journal that the revamped facility will serve not only as a hub for all ice sports in Santa Clarita but also as a center for community engagement.  

"It will host city events, non-profit fundraisers, mixers, conventions, business meetings, concerts, sports competitions — just to name a few options," Oviedo said. "With more than 90,000 square feet of space, the options are limitless."

Formerly known as Valencia Ice Station, the ice rink — which was created and owned for two decades by Roger Perez and which hit operational and financial turbulence last March with the coronavirus-incurred closures — was finally purchased by the city of Santa Clarita last fall.

The ice rink, located at 27745 Smyth Drive in Valencia, is undergoing renovations to update the facility's aesthetics and ensure that the venue will be safe and functional prior a reopening tentatively scheduled for this spring. Renovations are anticipated to be completed in March.

Meanwhile, enthusiastic city officials and members of the new ownership and management look forward to launching a second chapter for the former Ice Station, long a community hub and connector in Santa Clarita Valley.

"We are thrilled to have ASEC and the L.A. Kings managing our ice facility," Mayor Bill Miranda said in a statement. "The name recognition, experience and expertise will ensure a top-notch operation that our local youth hockey clubs, figure skating teams, curling competitors and recreational skaters will all enjoy once the doors reopen. We look forward to announcing the new facility name and opening date in the coming weeks – and look forward to welcoming the community back to this Santa Clarita landmark."

"The Santa Clarita community has a great tradition of supporting hockey and all ice sports and today's announcement is the next critical step to continue and expand upon that mission," said Kings President and Hockey Hall of Famer Luc Robitaille.

ASEC President Brad Berman added, "We are excited for the opportunity to expand our relationship with the Kings and execute the city of Santa Clarita's strategic vision for this important community asset."

Founded in 2006, ASEC is the largest owner and operator of ice skating and indoor sports facilities in the United States. ASEC owns or operates some 20 facilities nationwide, including Pickwick Ice in Burbank, Reseda Ice Rink and Toyota Sports Performance Center in El Segundo, which is home to the L.A. Kings the Los Angeles-based championship-winning professional hockey team.

Oviedo told the Business Journal that the L.A. Kings will not practice at the Valencia rink and will continue to meet for scrimmages and training at the team's El Segundo rink.