Burbank Locks Tinhorn Flats, and Again Owner Cuts It Off
Wednesday, March 31, 2021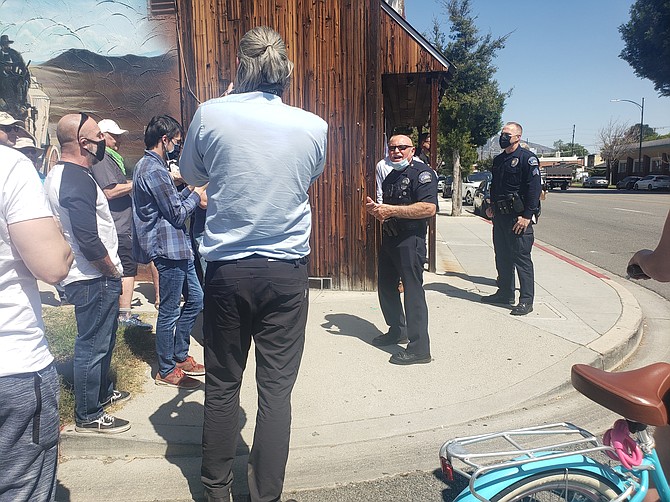 In somewhat of a surprise move, the city of Burbank on Wednesday morning put a red tag of condemnation on the defiant Tinhorn Flats Saloon and Grill and padlocked its doors for a second time. True to form, the owner's son soon sawed off one of the locks and entered the restaurant that has gained attention as a symbol of small-business resistance to lockdown orders.

The owner's son, Lucas Lepejian, earlier said he expected to be arrested after sawing off the lock, and a commanding officer at the scene said "that option is open." But no arrests had been made by 3:30 p.m.

Burbank and Tinhorn Flats have been locked in an escalating feud for months. Tinhorn Flats opened its outdoor dining late last year despite orders from local governments banning outdoor dining. The city revoked the restaurant's permits, but when the restaurant continued operating, the city shut off its electricity and later padlocked its doors. But the restaurant used borrowed generators and Lepejian cut a padlock about 12 hours after it was put on and reopened the restaurant.

The restaurant's owner, Baret Lepejian, on Wednesday said he was surprised the city had condemned his restaurant because he believed he and the city were working on a compromise.

Lepejian and his lawyer, Mark Geragos, had a private Zoom meeting last week with the Burbank mayor and city officials. Lepejian said the mayor expressed his commitment to working out a compromise and Lepejian said he told them he wanted a solution and that "no one needs to win here." He said he took it as a good-faith effort on the part of the city to resolve the conflict. He said he heard nothing else from the city.

The mayor and city officials did not return a request for comment.

According to a prepared statement, Burbank Fire Chief Eric Garcia said: "There are multiple fire/life safety violations that have been brought to the business owner's attention."

The statement said that cords running from a generator to an electrical panel and using the electrical breakers as switches are fire hazards. And the exit lights are not working.

About 10:30 a.m. Wednesday, the city padlocked the doors and duct taped a red sheet on the building saying the restaurant was unsafe and no one was to enter or occupy the structure.

By early afternoon, Baret Lepejian said he and his family were "going to take back our business."

Shortly before 2 p.m., about 10 police officers were around the building. They blocked a side street and one lane of Magnolia Boulevard in front of the restaurant. Deputy Chief Michael Albanese asked the crowd to cooperate and not enter building.

"If you choose not to cooperate, we'll see what happens," he said.

At 2 p.m., as a crowd of about 50 chanted "Cut the lock," Lucas Lepejian used an angle grinder and in less than five minutes sliced a lock off the side door to the restaurant. He went inside but asked the crowd to stay outside.

At 2:30 p.m., the restaurant's patio opened and patrons entered. By 2:55 p.m., police removed the barricade and began dispersing.

Albanese, when asked about the possibility of a compromise resulting from the meeting last week between Lepejian and city officials, said, "There was nothing binding from that meeting." When asked whether any of the Lepejians were to be arrested, he said that option was open.

But by 3:30 p.m., no arrests had been made.

The dispute has gained a fair amount of press coverage locally and at least some national exposure. Baret Lepejian appeared recently on a "Varney & Co." show on Fox Business Network.