Amy Stulick
Staff Reporter (Health Care, Law)
Recent Stories
Calabasas-based Arcoro, a human resources management company, on Thursday announced it has formed a partnership with construction management software company Procore.
While economic growth in the San Fernando Valley is facing a slowdown, growth of 3.4 percent for this year would still outpace the state and nation.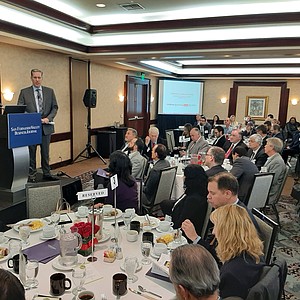 Jet Edge International announced it has acquired Columbus, Ohio-based JetSelect Aviation.
Amgen Inc. on Monday announced it will collaborate with Guardant Health Inc. and Qiagen N.V. to further its research on AMG 510, a pipeline drug designed to treat metastatic lung cancer.
Jant Pharmacal Corp. has won a contract with health care performance improvement company Vizient Inc., starting Feb. 1.
A fairly low-profile pharmaceutical company in Thousand Oaks has brought on a longtime Pfizer executive and co-inventor of the drug Zoloft to be in a management position.
The U.S. Patent and Trademark Office on Tuesday issued a patent to Endonovo Therapeutics for usage of its SofPulse technology in stroke victims.
Electronic medical record business hit by malware.
Agoura Hills electronic medical record company Casamba was the target of a malware attack in November, affecting its home health and hospice products.
Local presence at SoCalBio conference about digital health.
SoCalBio's Digital Health Conference hosted biotech companies and venture capital firms from around the globe
Panorama City mental health workers set up picket line.
Mental health workers on Dec. 16 set up a picket line outside Kaiser Permanente's Panorama City Medical Center to strike against inadequate staffing numbers, as well as poor retirement and health benefits.